The TC52X-HC Series is purpose-built to reduce the risk of infections, increase patient safety and improve workforce efficiency.
Infection control
Disinfectant-ready to meet the
highest standards; helps prevent
the spread of healthcare associated infections (HAIs)
Around-the-clock operation
Hot-swappable batteries and full-shift battery performance mean staff are equipped 24/7
Enhanced collaboration
PBX calls, PTT inside and outside
the four walls, secure text messaging; mobile alarms and alerts
Unmatched reliability
Dependably superior wireless connectivity and best-in-class
barcode scanning minimizes the
need for staff workarounds that
can lead to dangerous errors
Greater investment protection
Rugged design is built for around-the-clock use, longer product and security lifecycle than consumer smartphones
Easy IT management
Increase management, control
and visibility with Mobility DNA
software tools
Benefits of the TC52X-HC Series
Enhance accuracy and quality of patient care

Increase staff productivity and collaboration

Increase operational efficiency

Positive patient ID
Specimen collection
Medication administration
Blood transfusion administration
Breast milk management

Staff communications:
PBX calls, PTT inside and outside the four walls,
secure text messaging
Mobile alarms and alerts

Facilities and asset administration
Lab administration
Full HD 5-inch display with capacitive touch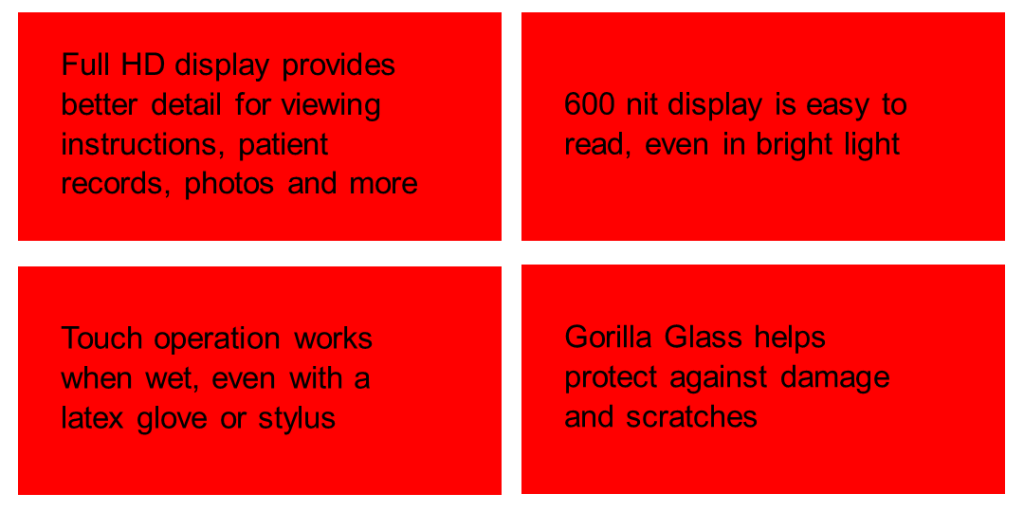 The ultimate feature set for the ultimate in quality of care
Extraordinary working range                                                                         
Capture barcodes up to 24 in./60 cm away
Exceptional motion tolerance
Global shutter provides better motion tolerance for easier,
faster and more accurate scanning
Capture barcodes in any condition
Damaged, dirty, scratched or poorly printed
Clinicians never need to align the scanner and barcode
Makes scanning even easier for point-and-shoot simplicity
and easily capture large barcodes.
Our Zebra experts are ready to assist you
Want To Learn More?
Send Us a message!