WiFi
Is my wireless LAN absolutely mission critical to my business?
Does my WLAN meet the standards of today's most demanding wireless clients, as well as support legacy clients that must remain in place?
Can I confidently say that I have sufficient wireless connectivity throughout my facility, with enough coverage cell overlap to ensure seamless roaming?
Does my WLAN conform to the specifications of most wireless phone manufacturers or other specialized wireless applications?
Have recent physical changes in my building environment negatively affected my RF environment?
If you're like most Wireless Network Administrators, questions such as these weigh heavily on your mind from each day to the next. The simplistic "WiFi" delineation no longer seems relevant in describing what is expected of non-wired network connectivity anymore. The days of wireless as a luxury have long since disappeared, as companies tend to rely more and more on WLAN's as a primary conduit for connecting employees, mission-critical applications, and inventory management. Instead of simply being requested for efficiency, Enterprise-Class wireless networks are demanded for by business leaders to handle all facets of operations. The pressures of increased bandwidth requirements, user density, and vendors' minimum wireless specifications for support agreements can be overwhelming. For all of these reasons, it is imperative that companies align themselves with a wireless services provider that is knowledgeable, experienced, and qualified. Furthermore, that resource should be able to support you from end-to-end, which entails the ability to perform all of the following tasks:
With over 30 years of combined wireless networking experience, Versona Systems has successfully performed all of these tasks at the highest level for customers, small and large, in a plethora of environments, including manufacturing, warehousing, education, retail, hospitality, airport, healthcare, and sports venues. From harsh industrial to high density classroom and conference environments, we've immersed ourselves in any situation a customer has devised and always exceeded expectations.
Mesh
Mesh Networking can fulfill the requirements for a variety of specialized situations. The solution combines the backhaul capabilities of wireless bridges with the wireless network access of WiFi. The non-wired Mesh AP's can then extend out over multiple hops into hard to reach areas and provide a blanket of wireless coverage for outdoor client usage. Mesh network hardware is designed for outdoor use, with weatherproof characteristics. Therefore, even if your targeted areas of wireless coverage are not spread out by great distances which require the Mesh functionality, the devices may remain a viable option, if only to reduce the need for buildings to house the access points or expensive waterproofing enclosures and hardware. Additionally, Mesh networks can provide cost-effective solutions for line-of-sight outdoor wireless bridging particularly where traditional cable and fiber are not an option. Typical Mesh deployment scenarios would include:
Campus WiFi Coverage for Students
Municipal WiFi for Public Use
Outdoor Industrial Management
Harsh, Indoor Industrial Environments
Public Transportation
Large, Temporary Events
If a Mesh network seems to suit your company's needs or if you require a feasibility analysis to determine whether it is a good fit, Versona Systems can help. We utilize some of the best-in-class hardware from Cisco Systems for Mesh Deployments. Our engineers are knowledgeable in Mesh surveying methodology, as well as deployment strategies and design. Versona Systems can provide a comprehensive Mesh Network solution that integrates well with your existing infrastructure and accommodates your wireless backhaul and outdoor WiFi needs.
Point-to-Point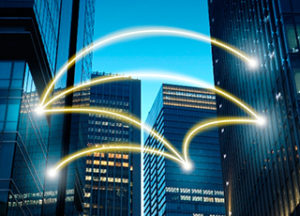 Point-to-Point (PTP) bridging remains a viable method of connecting two geographically separated locations, or LAN segments, without the costly investment, both in time and budget, of traditional cable and fiber deployments. Each with their own set of proclaimed advantages, a number of vendors exist which can provide hardware to easily satisfy your bridging needs. However, as capabilities of certain devices can vary greatly, a number of factors should be considered before making a decision. Some of the most important ones are listed below:
Distance between Locations
Required Data Rates / Throughput
Licensed or Unlicensed Frequency Band
Mounting Structures
Budget
Customer requirements can vary greatly when it comes to a wireless bridge so our team accommodates the needs of each client.
Point-to-Multipoint
Much like Point-to-Point (PTP) bridges, Point-to-Multipoint (PTMP) links offer some of the same benefits. The distinguishing characteristic of a PTMP deployment is that several remote bridge devices connect back to a singular, shared root bridge, instead of the PTP case where two devices have a dedicated link between them. Some examples of typical PTMP deployments would include:
Companies with several dispersed, small buildings on a campus
Standalone, Modular Classrooms surrounding a school
Remote Video Monitoring
One advantage to PTMP is hardware savings with only one root AP for multiple devices. Major constraints include the need to have line of sight (LOS) from multiple locations back to one geographic point, as well as the fact the wireless bandwidth is no longer dedicated but shared amongst the remote bridges.
If you'd like to know more about Versona Systems capabilities in PTP or PTMP design, installation, and commissioning, please contact 713-654-8200 or Sales@VersonaSystems.com.