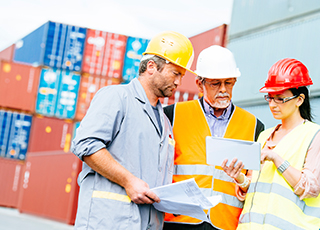 Is your crew spending a lot of time to find the material they need?
Worried that your crew chose the wrong material for an installation?
Wish you had real-time information of what has been Shipped, Received, Issued, and Installed?
Is manual tracking of assets and materials overwhelming your crew?
Contact Versona Systems and we can show you how you can:
Get control and visibility of the assets and materials in your laydown yard using Barcoding, RFID, and GPS to save you time and money.
Know immediately and exactly where assets and materials are located. Our real-time GPS location overlaid on a Google map makes it quick and easy for your crews to find exactly what they are looking for.
Track asset and material movements within the laydown yard automatically. Let our system track the movement of materials to provide real-time visibility.
Issue the asset or material to the project with proof of delivery. No network connectivity, no problem, the mobile application can sync with our system automatically when the signal returns.
Industrial construction projects are challenged by the storage and handling of a large quantity of fabricated materials in laydown yards, such as steel pieces, pipe spools, valves, and fittings. Effective material tracking requires not only the knowledge of what materials are currently present in a laydown yard, but also the ability to identify exactly where they are located for quick retrieval. Excessive crew hours spent on locating and retrieving materials can have a significant impact on field installation productivity and overall project schedule performance. A CII (2008) study showed that the average time a crew spent manually locating fabricated items in a lay down yard was over 35 minutes. On the other hand, a past case study indicated that effective material management has a benefit/cost ratio of over 5 to 1 in medium sized commercial construction projects (Thomas et al. 1989).
Automated material identification and locating studies, conducted in the last decade, have shown that such automation can increase productivity and cost efficiency while minimizing data entry and material tracking costs. Among these technologies are barcoding, global positioning systems (GPS), radio frequency identification (RFID), and ultra-wide band (UWB) locating. While these solutions provide material identification and locating capability, they are different in various aspects, e.g. accuracy, implementation and operating cost, instrument setup effort, level of automation, robustness, ruggedness, and practicality/scalability for projects of various sizes. Therefore, for everyday field applications, the key question is to tradeoff among these competing needs and find the most practical technical solution.
If you'd like to know more about Versona Systems capabilities in your laydown yard, please contact 713-654-8200 or Sales@VersonaSystems.com.