Automatic Identification and Data Capture
Automatic Identification and Data Capture (AIDC) is a broad set of sophisticated technologies that collect vital object/asset, image, sound, and security information without the use of manual data entry. Revolutionary for the manufacturing supply chain and personnel security, AIDC includes barcode scanning, direct parts marking, radio-frequency identification (RFID), and voice systems. All of these combine to optimize the management of inventory, delivery, assets, security, and documents. As an alternative to barcode technology and line of sight scanning from a barcode label, Versona Systems installs RFID tags (active or passive) to collect, process, and transmit data. When we combine these tools with cloud-based authentication software, it allows for a powerful and secure Internet of Things (IoT).
The IoT, a network that connects physical objects to operators in order to provide better service, goes beyond machine-to-machine communications. It enables the collection of an immense amount of data from smartphones, tablets, connected vehicles, and appliances. For a company, these features equate to ways which help better manage business.
AIDC provides many useful applications, including "proof of presence," which allows businesses to document employee activities in real time. In addition, a cloud-based software platform allows integrated advanced analytics to unearth actionable information with the use of real-time data. Versona can provide your business with the automated tools it needs to operate smoothly and more efficiently.
Barcode Basics
Barcodes use a system of bars and spaces to encode data, based on a language known as a symbology. A barcode mark is applied to items so that information about those items can be collected using automated techniques. Barcode symbologies are either one dimensional (1D or "linear") or two dimensional (2D), based upon how the code is designed to be read.
1D Barcodes: Many industries standardize on certain symbologies for their applications. One of the best known 1D symbologies is the UPC (Universal Product Code), which is common in grocery and retail applications. Code 39, which was developed by Intermec in 1974, is still one of the most widely used alphanumeric barcode symbologies in the world.
2D Barcodes: Because they encode data in two dimensions, 2D bar codes can hold more data in a smaller space than can a 1D barcode. In a world where more data is always needed, 2D's greater data capacity has contributed to its growing popularity across a variety of applications. There are two main categories of 2D barcode symbologies: stacked and matrix.
2D Stacked: 2D stacked symbologies are made up of two or more rows of linear bars and spaces. Leading stacked symbologies include PDF417, Code 16K, Code 49, and a version of GS1 DataBar formerly known as RSS Composite. 2D stacked symbologies can be read by laser scanners, linear imagers and area imagers, although not all readers can process all symbol sizes.
2D Matrix: 2D matrix symbologies encode data in dark and light geometric elements arranged in a grid. The position of each element relative to the center of the symbol is a key variable for encoding. Matrix symbologies are commonly used for small item marking and also for unattended and high-speed reading applications. Examples include Data Matrix, MaxiCode, Aztec Code, Code One and QR Code.
2D Matrix symbologies can only be read by area imagers.
RFID
Versona Systems aims to enhance your end-user experience by providing products that allow you to become part of the IoT. Our RFID solutions advance your business goals and increase ROI by helping you achieve a new level of efficiency and enhanced visibility as your inventory moves across the supply chain. When it comes to business operations and automated processes, our expertise grants our customers complete control over their technology systems as they track valuable assets in real-time, develop critical business goals, and adeptly respond to changes in onsite and offsite workflow. With extensive experience and industry-leading partners, we turn the physical world into an information system with cutting-edge RFID technology, including:
Fixed Readers
Handheld Readers
Vehicle-Mount Readers
RFID Printers
Reader Antennas
Tags, Smart Labels, and Inlays
Reader Software
Versona Systems has deployed turnkey passive RFID solutions, such as engine and Work-in-Process (WIP) tracking, asset identification, tote tracking, error proofing, yard management, RFID-enabled forklifts, and compliance labeling since 2002. It's our business to know what an object is, where it is, and even what condition it is in. Our Electronic Article Surveillance (EAS) service can be deployed to deter theft and enhance asset location control systems, protecting your investment of time and money.
In addition to turnkey RFID solutions, we also offer sub-system integration with existing systems, technical assistance with design and deployment, custom tag carriers, process analysis, and component selection services. We complement our RFID-enabled products with a suite of support services, conducted by our team of expert consultants in five distinct phases, to ensure 100% satisfaction. The five phases are:
1.Feasibility Analysis
2.Process Analysis
3.Site Analysis
4.Site Installation
5.Performance Guarantee
Some of our industry-leading technology partners include Impinj, HID Global, and Omni-ID, Intermec by Honeywell, and Zebra Technologies.
Voice Technology
Voice technology uses speech recognition and speech synthesis to allow workers to communicate with the Warehouse Management System (WMS). Warehouse operatives use a wireless, wearable computer with a headset and microphone to receive instructions by voice, and verbally confirm their actions back to the system. The wearable computer, or voice terminal, communicates with the Warehouse Management Software via a radio frequency (RF) local area network (LAN).
Some of the most dynamic and fast-changing technology areas have to be the ones deployed in warehouse and distribution center operations – helping companies to better serve increasingly demanding consumer expectations while also aiming to improve business profitability.
Voice Picking: With voice picking, companies have reported a 99% accuracy rate since implementing it in their businesses. Miss picks, over picks, and short picks are the leading causes of reduced margins when it comes to picking. An error can lead to significant expenses, costing most companies anywhere between $5 and $50 per error. When switching to voice, it's easy to see how improving pick accuracy can quickly add up to savings for retailers and increase their margins.
Speakeasy Solution: We offer two different approached to a voice solution. First is Speakeasy Solution the fastest way to add voice to your Terminal Emulation or web-based application for increased productivity and operational efficiency. Versona can have you up and running in 30 days.
Vocollect Solutions: Next, is the Vocollect Solutions that offers a scalable and open architecture that provides seamless and well documented options with virtually every WMS/ERP system, as well as in-house developed systems. The software portfolio of enterprise voice connectors include: Vocollect VoiceExpress, Vocollect VoiceLink, Vocollect VoiceInterface Objects, Vocollect VoiceDirect and Vocollect VoiceDirect ERP for SAP.
Direct Part Marking
Direct part marking (DPM) is a process to permanently mark parts with product information including serial numbers, part numbers, date codes, and barcodes. This is done to allow the tracking of parts through the full life cycle. DPM is often used by automotive (link to our automotive page), aerospace, and electronic manufacturers to facilitate a reliable identification of their parts. The types of markings are can be human readable or a 2D code with Data Matrix or QR Code.
Many Marking Methods Are Available
There are many methods to directly mark objects. Selecting the best method for the application is critical to achieving success. Each method has its own advantages and limitations. Since each method has its own advantages and limitations, it is important to review and experiment with as many methods as possible before selecting the best one for your application.
Electrochemical Etch: This process uses a low voltage current to mark the object surface. This is commonly used for low volume product runs.
Ink Jet: This type of marking uses small, dots sprayed directly onto the surface. Ink jet produces high contrast marks. Ink jet is not considered a permanent marking method.
Laser Etch: Lasers etch the symbol directly onto a surface. Clean, high resolution marks are produced making laser-etch well-suited for automated environments.
Dot Peen: Dot peen is a percussive marking method, using changes in depth to create marks. Dot peen is recommended for applications where the symbol must last the entire life cycle.
Optical Character Recognition (OCR)
Optical character recognition (OCR) refers to the branch of computer science that involves reading text from paper and translating the images into a form that the computer can manipulate (for example, into ASCII codes). OCR is the mechanical or electronic conversion of images of typed, handwritten or printed text into machine-encoded text. It is widely used as a form of data entry from printed paper data records. It is a common method of digitizing printed texts so that it can be electronically edited, searched, stored more compactly, displayed on-line, and used in machine processes such as machine translation, text-to-speech, key data, and text mining.
Today, OCR software can recognize a wide variety of fonts, but handwriting and script fonts that mimic handwriting are still problematic. Advances have made OCR more reliable; expect a minimum of 90% accuracy for average-quality documents. OCR systems include an optical scanner for reading text, and sophisticated software for analyzing images. Most OCR systems use a combination of hardware (specialized circuit boards) and software to recognize characters, although some inexpensive systems do it entirely through software.
Open Platform Communications (OPC)
Sometimes the critical process data your business applications need is buried deep within various manufacturing control systems (i.e. – PLC's, robots, various micro-controllers, etc.) located on your plant floor. It would be far too expensive to retain the labor required to find, collect, and document this information. However, since the collection of this data is necessary to the business, you could obtain it by implementing separate drivers for each of the different controllers. Once again, this is an overly expensive solution. A common and more economical way to collect this data is to implement the use of Open Platform Communications (OPC).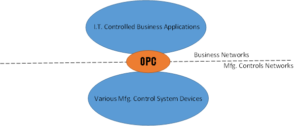 Today, almost all control system vendors make OPC available as an option for communication with their systems. On the business application side, there are several OPC software providers in the marketplace and Versona Systems has worked with many of them.
Implementing an OPC strategy is also an effective way to "bridge" the two very different types of networks that exist in most companies – the Business or Office networks and the Manufacturing or Engineering Control networks. Versona Systems can work with you to implement such a strategy that considers not only the connectivity and throughput issues when dealing with plant floor communication networks, but also the security aspects therein.
So, whether its production counts located within a PLC or reject counts/reasons located within a vision system or paint cycles within a robot, Versona Systems can help you to implement an OPC network to efficiently collect this data and pass it to your business systems for further analysis and reporting.
If you'd like to know more about Versona Systems capabilities in technology, please contact 713-654-8200 or Sales@VersonaSystems.com.