RFD40 UHF RFID
This RAIN RFID powerhouse is ready to tackle all your RFID and data capture needs long into the future.
The RFD40 Sled can connect to 123RFID Desktop via USB cable or cable cup or 123RFID Mobile via eConnex™, so you can configure your sleds live and offline. Use 123RFID Desktop or 123RFID Mobile for proofs-of-concepts, demos, and to perform firmware upgrades.
What sets the RFD40 Sled apart from the competition?

Key Takeaways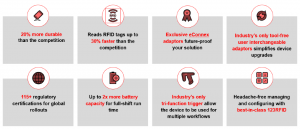 Want To Learn More?
Send Us a Message